Amazon is the largest internet-based retailer in the world, starting in 1994 as an online bookseller. Over the years, Amazon diversified to sell electronics, jewelry, toys, CDs, DVDs, and numerous other products. Now there's hardly any product that can't be ordered through their site. In 2015, Amazon surpassed Wal-mart as the most valuable retailer in the United States. While Amazon.com sells a staggering array of products in every category, the company also produces consumer electronic devices such as the Kindle e-reader and Echo. They also produce a line of lower-priced accessories under the AmazonBasics name, including items such as keyboards, camera bags, USB cables, and other accessories.
Get Your Amazon Credit Card
Amazon Credit Cards give you a great way to buy everything you need online. With low interest rates and unbeatable opportunities to earn valuable rewards, the Amazon Prime Store Card and Rewards Visa are excellent cards to have in your wallet.
Select Prime Members will even enjoy special rewards, such as 5% cash back on Amazon.com. The Amazon Prime Rewards Visa also offers cash back bonuses to non-Prime members. To sign up for either of these competitive credit cards, choose the appropriate link below:
If you're already an avid Amazon shopper and Amazon Prime member, you should definitely get this card! Earning 5% back on all Amazon purchases is a deal that most likely can't be matched by any other card in your wallet.
How to Sign Up For an Amazon.com / Amazon.ca Credit Card
Head over to Amazon.com's online credit card application by clicking on one of the cards below.
Americans can view more information about the Amazon.com Prime Rewards Visa Signature Card.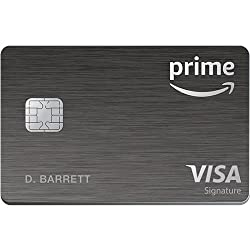 Canadians can view more information about the Amazon.ca Rewards Mastercard®.